RE: RAK831 and WisAP / IOT Enterprise LoRa Gateway Developer Kit
@patmolloy I brought this [RAKWireless Enterprise LoRa Gateway] also...(https://www.amazon.com/gp/product/B07F8QYWF6/ref=oh_aui_detailpage_o00_s00?ie=UTF8&psc=1) from Amazon which is basically the WisAP and RAK831.
so after connecting everything, it doesn't seem anything like the packet_forwarder installed so I guess I need to install it all myself..[alt text](image url)... I am hoping after i follow the below instructions https://github.com/RAKWireless/WisCore/wiki/WisLora i will be good to go.
Any tips on why I cannot connect to the internet over WAN after plugging into my existing router..or even wifi? also, with this development kit, nothing was configured like the Rasberry PI and RAK831 Development kit I purchased a few weeks ago..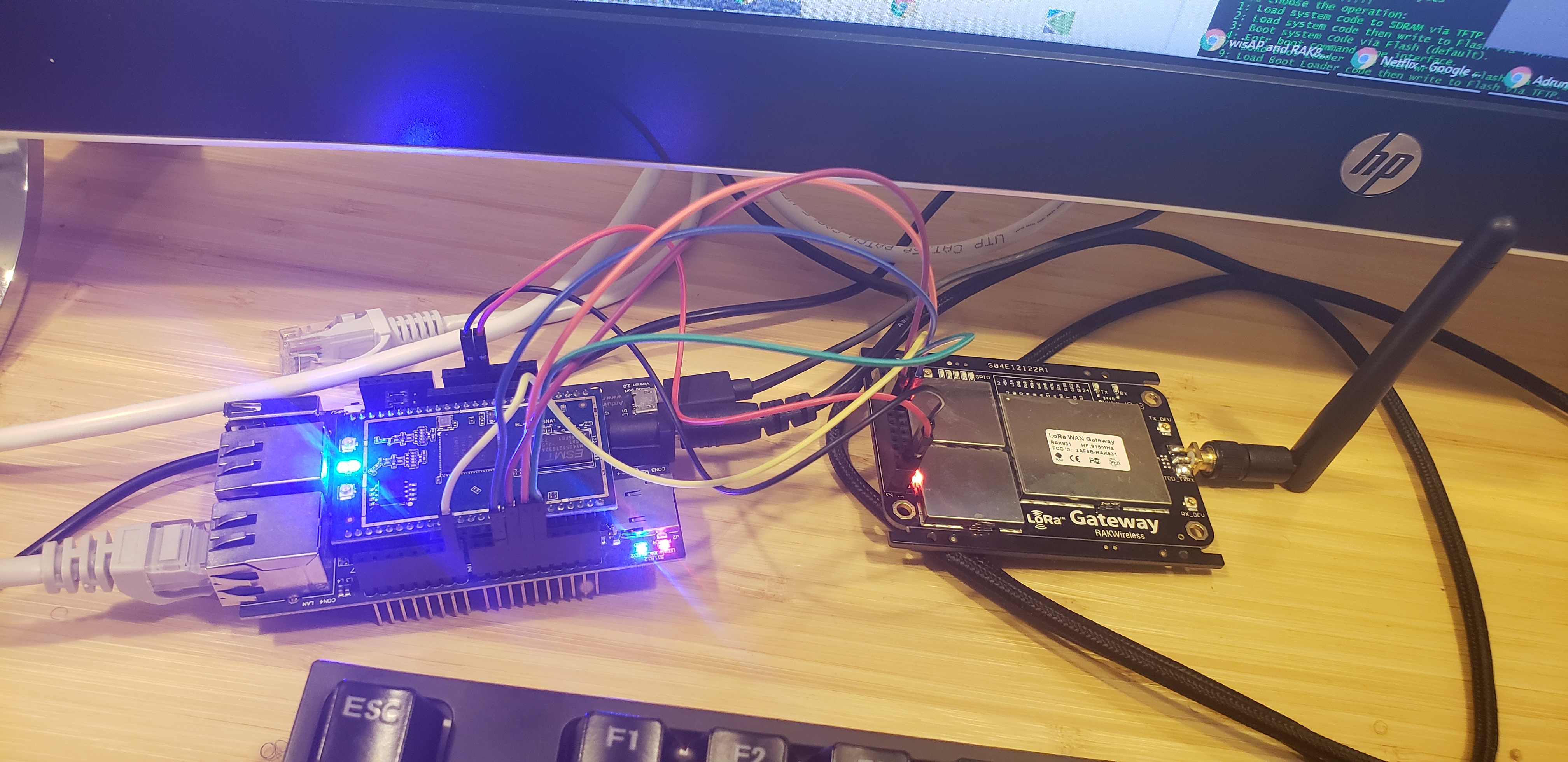 sample wifi config(/etc/config/wireless)
config wifi-device radio0
option type mac80211
option channel 11
option hwmode 11g
option path 'platform/10300000.wmac'
option htmode HT20
# REMOVE THIS LINE TO ENABLE WIFI:
option disabled 0
config wifi-iface
option device radio0
option network lan
option mode ap
option ssid TP-LINK_7C95_5G
option key XXXXXX
option encryption none
root@OpenWrt:/tmp/log# uci show wireless
wireless.radio0=wifi-device
wireless.radio0.type='mac80211'
wireless.radio0.channel='11'
wireless.radio0.hwmode='11g'
wireless.radio0.path='platform/10300000.wmac'
wireless.radio0.htmode='HT20'
wireless.radio0.disabled='0'
wireless.@wifi-iface[0]=wifi-iface
wireless.@wifi-iface[0].device='radio0'
wireless.@wifi-iface[0].network='lan'
wireless.@wifi-iface[0].mode='ap'
wireless.@wifi-iface[0].ssid='TP-LINK_7C95_5G'
wireless.@wifi-iface[0].key='XXXXXXX'
wireless.@wifi-iface[0].encryption='none'
posted in LoRa/LoRaWAN